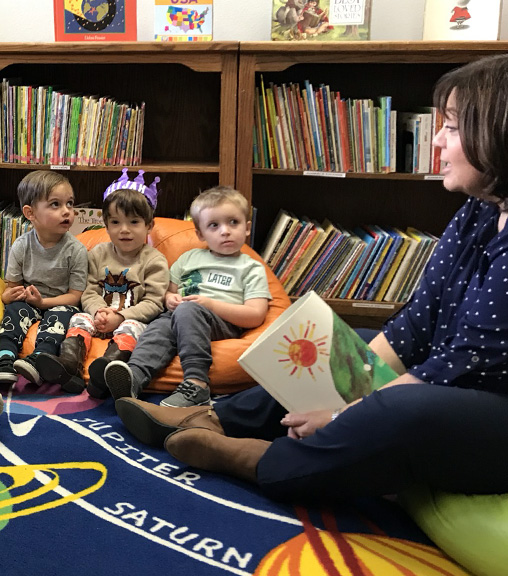 Early Childhood Education Center
WE ROCK! Join Our School!
Welcome to Temple Ahavat Shalom's Early Childhood Education Center, a place where natural curiosity and creative imagination lead to discovery in learners of all ages.
Temple Ahavat Shalom's Early Childhood Education Center (TAS ECEC) recognizes that children are individuals who deserve respect and appreciation for their uniqueness. We give children an opportunity to build their self-esteem in a safe and nurturing environment, all within the context of a rich Reform Jewish tradition. We encourage each child to travel on this journey of learning by utilizing a hands-on, play-based curriculum, which fosters creativity and curiosity. We place value on the process rather than the product and strive for the development of the whole child. We view education as a partnership among teacher, family, and community and hope this relationship continues to grow, as our families remain part of our TAS community, even after graduating from the ECEC.
School Info
TAS ECEC offers both full-time and part-time programs from 2 years old through Pre-K. Please see below for a calendar of our events and program options.
Our programs are competitively priced and Temple membership is included with every registration. Open Monday through Friday from 7:15 am to 6:00 pm
Early Drop Off
7:15 am – 9:00 am
Morning Program
9:00 am –
12:30 pm / 1:00 pm
Extended Day
12:30 pm / 1:00 pm –
3:00 pm
Late Care
3:00 pm – 6:00 pm
How We Play
At the TAS ECEC we encourage our children to learn age-appropriate behaviors such as developing independence, gaining social skills, and being mensches.
We believe that learning takes place inside the classroom just as much as it does outside the classroom. Children take part in various indoor and outdoor activities including gardening, cooking, music, and art. Children visit our library weekly to hear stories and borrow books. We also offer additional enrichment classes such as musical theater, science, martial arts, sports, and gymnastics, which support creative thinking, strength, and development as your child grows. With small classes and a low ratio of children per teacher, we ensure special attention for every child. We also provide help when your child is ready for toilet training. Our goal is to prepare our children for the next phase of their lives and our Pre-Ks leave our school with self-confidence, positive self-esteem, and a love for learning and creativity that will flourish as they continue on their journey of learning.
Meet Our Teachers
Our teachers are passionate about providing a nurturing and safe environment for their ECEC children.
View All
Testimonials
Read what people are saying about the ECEC program at Temple Ahavat Shalom
Choosing a school to take care of your children with the level of care that you provided can sometimes be overwhelming. I am so thankful to have found TAS ECEC, with a nurturing staff, creative program, and beautiful school grounds. They give me confidence that my son will continue to flourish and he absolutely loves it!

Laurie Cherny

ECEC Parent
Tessa Cramer is an outstanding Director with dedicated teachers who provide a warm and nurturing environment for young children. You feel the joy of learning and creating and discovery in an exciting classroom setting. The School deserves an 'A' rating!

Sheila Reback

Founder / Director of Adventures in Learning, Early Childhood Center
The ECEC is truly a community, and just like the artwork on the walls, its whole is far greater than the sum of its parts. I am so happy and grateful to have stumbled into this gem of a school.

Devon Schiff

ECEC Parent
There is no better feeling than dropping my kids off at preschool and knowing they are in a warm, safe, and loving environment. We have been lucky to call TAS our home for the past five years.

Jill McAnear

ECEC Parent